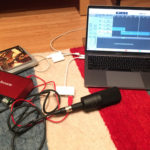 Remote recording is for now the new normal. The audio industry is adapting in incredible ways and podcasters are finding new ways to adapt.
I have to admit, as a podcaster I was at a bit of an advantage when the pandemic hit. My podcast has been recording remotely for Read more…
The post How to Record and Edit Remote Podcasting in a Quarantined World: Making "Hot for Creature" appeared first on SonicScoop.