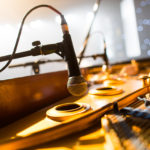 Wessel Oltheten, producer, engineer and author of the book Mixing with Impact offers a roadmap to getting better sounds out of your mics, every time. For even more on this subject, stay tuned for upcoming articles in this new series on recording techniques.
It's impossible to know how a Read more…
The post Mastering Mic Placement: How to Get the Most Out of a Single Microphone appeared first on SonicScoop.