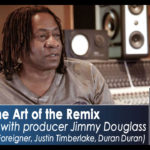 We JUST premiered the free MixCon masterclass with Jimmy Douglass, and it was a blast!
Jimmy Douglass is a true living legend of music production, who has worked with some of the biggest artists in rock, hip hop, R&B, pop and more.
With a career beginning as a teenager in Read more…
The post Mixing & Remixing Masterclass w Jimmy Douglass [Kanye, Grimes, AC/DC, Justin Timberlake] MixCon 2020 appeared first on SonicScoop.