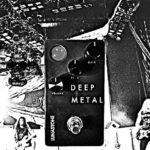 LunaStone unleashes the Deep Metal distortion pedal.
LunaStone's Deep Metal is a hugely scooped distortion tailored specifically for providing powerful and classic metal tones. It is equally suited for creating wall-of-sound-like heavy guitar riffs and cutting-through-and-above-the-mix solos. The low end is kept tight, while maintaining the ability to go really Read more…
The post New Gear Alert: Deep Metal from LunaStone, EHX's 15Watt Howitzer, System 6000 Native Plugins from TC Electronic & More appeared first on SonicScoop.