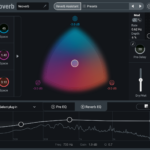 iZotope has launched Neoverb, its intelligent reverb plugin.
Neoverb is a reverb plugin that combines Exponential Audio technology with an intuitive, AI-powered workflow to help music producers and mix engineers quickly find the right space for their vocals and instruments.
Neoverb's Reverb Assistant feature lets users get to a starting Read more…
The post New Gear Alert: iZotope's Neoverb, Waves Card for Yamaha Consoles, Bit Crusher from EHX & More appeared first on SonicScoop.