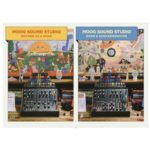 Moog unleashes Sound Studio.
Moog Sound Studio is the ultimate synthesizer set up that includes everything a bedroom producer needs to start creating. The good news is that it won't break the bank, and Moog makes this an incredibly fun and interactive learning experience.
Moog Sound Studio is way Read more…
The post New Gear Alert: Sound Studio by Moog, Focal Updates Alpha Series, Rocket Bass Amps from Ampeg & More appeared first on SonicScoop.