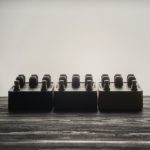 Universal Audio debuts the UAFX Pedals.
Universal Audio introduces UAFX, the company's first line of effects pedals, featuring sonically authentic emulations of classic reverb, delay, and modulation circuits. The results of an exhaustive multi-year R&D effort, UAFX Golden Reverberator, Starlight Echo Station, and Astra Modulation Machine bring powerful dual-processor Read more…
The post New Gear Alert: UAFX Pedals by Universal Audio, Waves x Ocean Way Nashville, iCON Pro Audio Space Series Mics & More appeared first on SonicScoop.