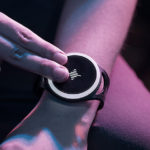 Wearable tech for musicians can be a wonderful tool to help them work, create, and collaborate. Soundbrenner have created Pulse, a wearable metronome watch with diverse uses and features musicians can always have on hand… or wrist, that is!
Unlike most metronomes, one of the many things that makes  Read more…
The post New Gear Review: Pulse Wearable Metronome by Soundbrenner appeared first on SonicScoop.