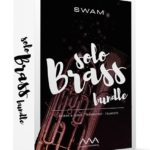 When mocking up big band and jazz horn arrangements, I tend to run into a number of issues with my sonic toolkit. A lot of my brass sample libraries have legato, but the scripting can be sluggish and sound fake for fast-flowing lines.
A lot of the brass libraries I Read more…
The post New Software Review: SWAM Solo Brass Bundle by Audio Modeling appeared first on SonicScoop.