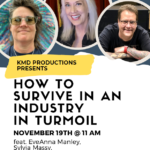 Wondering how the top audio pros are conquering Covid? KMD Productions continues to serve the industry with this free panel, happening online on November 19th at 11 AM Pacific/2 PM ET.
In "How to Survive In an Industry in Turmoil," three pro audio insiders explain how they've gone from shock Read more…
The post Online Event Alert: "How To Survive In An Industry in Turmoil" – November 19 w/EveAnna Manley, Sylvia Massy, and Ken "Pooch" Van Druten appeared first on SonicScoop.